Now, we will add some values to these Datasheets so we can run our models.
Project-scoped Datasheets
Terminology: The Project-scoped Datasheet called Terminology specifies terms used across all Scenarios in the same Project.
## 'data.frame':    1 obs. of  8 variables:
##  $ AmountLabel          : chr "Area"
##  $ AmountUnits          : Factor w/ 4 levels "Acres","Hectares",..: 1
##  $ StateLabelX          : chr "Class"
##  $ StateLabelY          : chr "Subclass"
##  $ PrimaryStratumLabel  : chr "Primary Stratum"
##  $ SecondaryStratumLabel: chr "Secondary Stratum"
##  $ TertiaryStratumLabel : chr "Tertiary Stratum"
##  $ TimestepUnits        : chr "Timestep"
We can change the terminology of the StateLabelX and AmountUnits columns in this Datasheet, and then save those changes back to the SyncroSim Library file.
## Datasheet <stsim_Terminology> saved
Similarly, we can edit other Project-scoped Datasheets for 'stsim'.
Stratum: Primary Strata in the model
## Datasheet <stsim_Stratum> saved
StateLabelX: First dimension of labels for State Classes
It is also possible to add values to a Datasheet without loading it into R. Below we create a vector of forestTypes and add this to the stsim_StateLabelX Datasheet as a data frame using saveDatasheet().
## Datasheet <stsim_StateLabelX> saved
StateLabelY: Second dimension of labels for State Classes
## Datasheet <stsim_StateLabelY> saved
State Classes: Combine StateLabelX and StateLabelY, and assign each class a unique name and ID
## Datasheet <stsim_StateClass> saved
Transition Types: Assign a unique name and ID to each type of transition in our model.
## Datasheet <stsim_TransitionType> saved
Transition Groups: Create Transition Groups identical to the Types
## Datasheet <stsim_TransitionGroup> saved
Transition Types by Groups: Assign each Type to its Group
## Datasheet <stsim_TransitionTypeGroup> saved
Ages: Define the basic parameters to control the age reporting in the model
## Datasheet <stsim_AgeType> saved
## Datasheet <stsim_AgeGroup> saved
Scenario-scoped Datasheets
Now that we have defined all our Project-scoped input Datasheets, we can move on to specifying Scenario-specific model inputs. We begin by using the scenario function to create a new Scenario in our Project.
Once again we can use the datasheet() function (with summary=TRUE) to display all the Scenario-scoped Datasheets.
##       scope                                          name
## 22 scenario                 stsim_DeterministicTransition
## 23 scenario                   stsim_DigitalElevationModel
## 24 scenario                       stsim_DistributionValue
## 25 scenario             stsim_InitialConditionsNonSpatial
## 26 scenario stsim_InitialConditionsNonSpatialDistribution
## 27 scenario                stsim_InitialConditionsSpatial
##                         displayName
## 22                           States
## 23          Digital Elevation Model
## 24                    Distributions
## 25   Initial Conditions Non Spatial
## 26       Initial Cond. Distribution
## 27 Initial Conditions Spatial Files
##       scope                                        name
## 77 scenario             stsim_TransitionSlopeMultiplier
## 78 scenario stsim_TransitionSpatialInitiationMultiplier
## 79 scenario           stsim_TransitionSpatialMultiplier
## 80 scenario          stsim_TransitionSpreadDistribution
## 81 scenario                      stsim_TransitionTarget
## 82 scenario        stsim_TransitionTargetPrioritization
##                                  displayName
## 77              Transition Slope Multipliers
## 78 Transition Spatial Initiation Multipliers
## 79            Transition Spatial Multipliers
## 80            Transition Spread Distribution
## 81                        Transition Targets
## 82          Transition Target Prioritization
We can now use the datasheet() function to retrieve, one at a time, each of our Scenario-scoped Datasheets from our Library.
Run Control: Define the length of the run and whether or not it is a spatial run (requires spatial inputs to be set, see below). Here we make the run spatial.
## Datasheet <stsim_RunControl> saved
Deterministic Transitions: Define transitions that take place in the absence of probabilistic transitions. Here we also set the age boundaries for each State Class.
## Datasheet <stsim_DeterministicTransition> saved
Probabilistic Transitions: Define transitions between State Classes and assigns a probability to each.
## Datasheet <stsim_Transition> saved
Initial Conditions: Set the starting conditions of the model at time 0. There are two options for setting initial conditions: either spatial or non-spatial. In this example we will use spatial initial conditions; however, we also demonstrate how to set initial conditions non-spatially below.
Option 1 - Spatial. Let's first take a look at our rasters. We will retrieve the sample raster files (in GeoTIFF format) provided with the rsyncrosim package.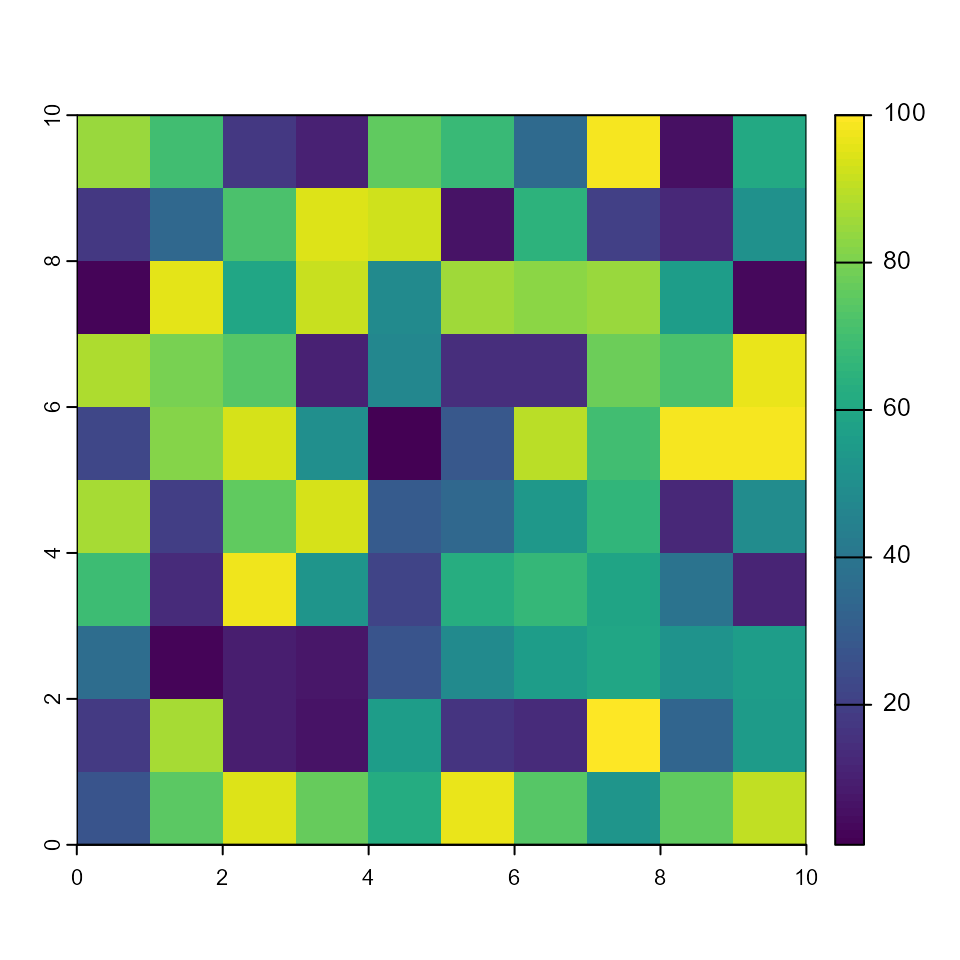 We can add these rasters as model inputs using the stsim_InitialConditionsSpatial Datasheet.
## Datasheet <stsim_InitialConditionsSpatial> saved
Let's check if the rasters were entered correctly. We can extract rasters with the datasheetRaster() function.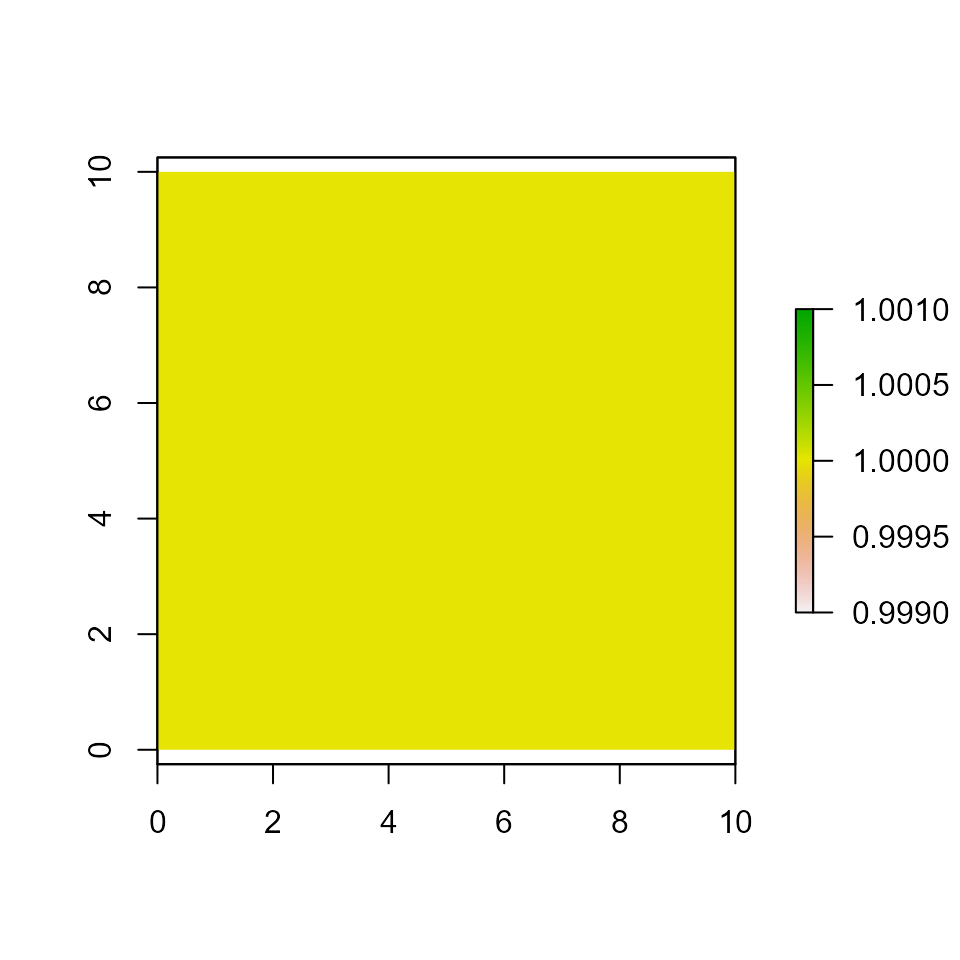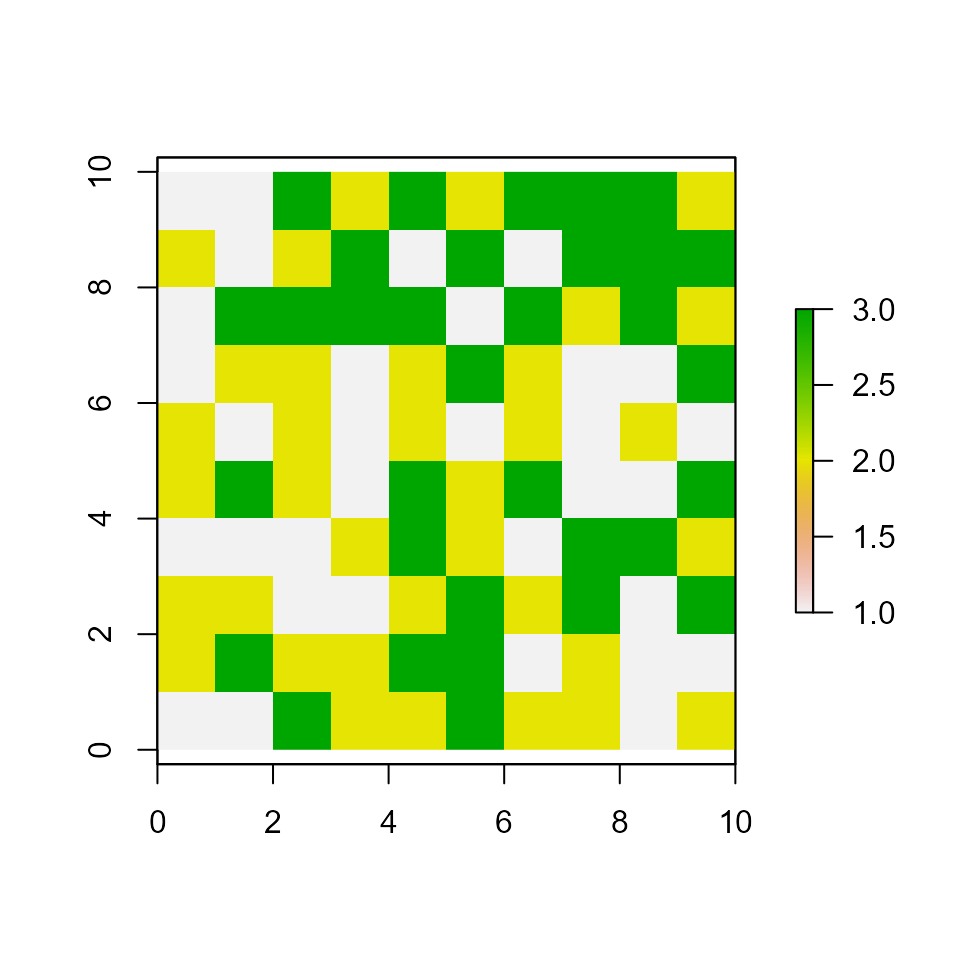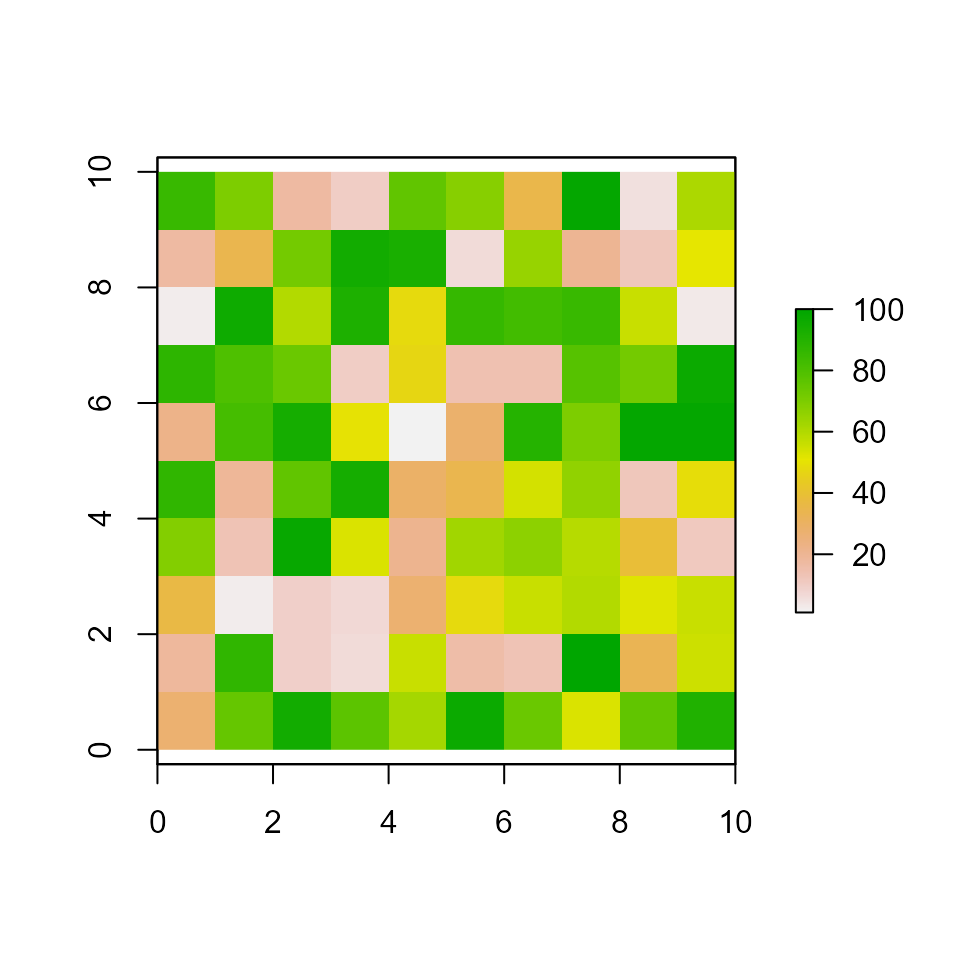 Option 2 - Non-spatial. The second option is to set the proportions of each class, making this a non-spatial parameterization. To do so, we use the stsim_InitialConditionsNonSpatial and stsim_InitialConditionsNonSpatialDistribution datasheets:
## Datasheet <stsim_InitialConditionsNonSpatial> saved
## Datasheet <stsim_InitialConditionsNonSpatialDistribution> saved
Transition Targets: Define targets, in units of area, to be reached by the allocation procedure within SyncroSim.
## Datasheet <stsim_TransitionTarget> saved
Output Options: Regulate the model outputs and determine the frequency at which syncrosim saves the model outputs.
## Datasheet <stsim_OutputOptionsSpatial> saved
## Datasheet <stsim_OutputOptions> saved
We are done parameterizing our simple "No Harvest" Scenario. Let's now define a new Scenario that implements forest harvesting. Below, we create a second "Harvest" Scenario that is a copy of the first Scenario, but with a harvest level of 20 acres/year.
## Datasheet <stsim_TransitionTarget> saved
We can display the harvest levels for both scenarios.
##   ScenarioID ProjectID ScenarioName ParentID ParentName TransitionGroupID
## 1          2         1   No Harvest       NA       <NA>           Harvest
## 2          3         1      Harvest       NA       <NA>           Harvest
##   Amount
## 1      0
## 2     20